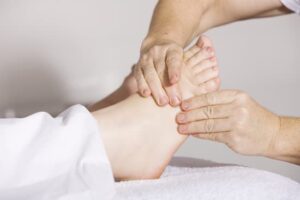 OVERVIEW
The FHT Reflexology course is a foundation course that equips you with practical and theoretical skills. This FHT accredited course will enable you to gain employment in the Complementary therapy Industry. 
Our Reflexology course will teach you to understand and communicate the theory and practice of reflexology, read the feet and hands with the view of all aspects of their clients health, to confidently complete a client case history, to answer any questions that clients may ask regarding a reflexology treatment. You will be able to identify factors such as: Nutritional Health, Stress, that may influence your treatment objectives. 
You will be able to  provide good  recommendations to your client, such as: Lymphatic Drainage Massage, Aromatherapy Massage, Stress Management.
You will have access to full instructional videos with a comprehensive routine allowing you to confidently carry out a full reflexology treatment and record your findings.
On completion of the course and relevant course work you will be able to confidently call yourself a  Reflexology Practitioner and seek employment from this.
The syllabus covers:
Anatomy and Physiology – online.
Reflexology (theory and practice)- 6 days of Attendance classes.
Professional Conduct, Business Awareness – online
Principles and Practice of Complementary Therapies – online
You are can start learning as soon as you enrol.
It also provides a solid foundation for further training at Levels 3 and 4, such as Massage or Aromatherapy.
OUTLINE
BOOK / BUY
Reflexology Course Objectives
After successfully completing the reflexology course, you will be able to:
Open your own private practice and treat clients from home.
Work in health clubs, hotels, ski resorts or offer mobile visiting Reflexology massage treatments.
Use your reflexology training to treat clients and give advice on its home use.
Supplement your full-time income by working part time.
Provide reflexology massage treatments to family and friends.
Add to your Continual Professional Development (CPD) portfolio.
Join the Association of Reflexologists (AOR).
Prerequisites & Who is this course for?
There are no formal prerequisites, this course is for absolute beginners.
If you already hold a Level 3 Diploma in Body Massage with Anatomy, Physiology and Pathology, the course duration is only 6 days.
If you are unsure of your current course qualifications, please call us on: 01273625460
Reflexology Exam Specification
Reflexology Theory and Practical exam.
One final Multiple Question Paper – Anatomy, Physiology & Pathology. (Online)
40 completed home case studies (thorough guidance given during lectures).
60 one off treatments.
Business Practice assignment – Online
Complementary Therapies assignments – Online
Course Title
Reflexology Diploma
Duration
11  days * Exam fee not included.
Price
£1595.00 – Includes Anatomy
Qualification: FHT Diploma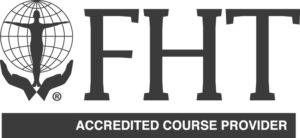 Bespoke Training
This course can be tailored to your requirements and run anywhere in the U.K.