OVERVIEW
Our IPHM and FHT accredited Anatomy Physiology Pathology is the most comprehensive online course. Our unrivalled course materials enables you to achieve your professionally recognised certificate in the way that best suits you. You are not required to purchase any other study materials. Everything you need to pass, we provide.
This online Anatomy course allows you to study at home, in your own time. If you are beginning a career in Complementary therapy or need an accredited qualification then this is the course for you. 
Anatomy Physiology Pathology is the foundation for many courses in Complementary therapies. It is suitable for students wishing to study human Anatomy and for those in the field of medical studies, complementary therapies, personal trainers, yoga teachers and body workers.
Our anatomy and physiology course is graded at level 3 , a nationally recognised qualification.
You have access to the online course for 1 year.
When completing your exam with a pass mark of 60% you receive your certificate.
OUTLINE
Anatomy and Physiology Objectives
After successfully completing the course, you will be able to:
Take courses in other complementary therapies such as Holistic Massage and Reflexology
Continue with your studies as a personal trainer or yoga teacher
Refresh your Anatomy learning if your qualification is more than 3 years old as part of continues professional development.
Prerequisites & Who is this course for?
This course is open to anybody with an interest in the study of Anatomy & Physiology,  or who wishes to advance to other courses and complementary therapies.
Course Length
Distance Learning Certificate course of 12 lessons.
This Course can be studied in your own time, at your own pace.
The Course will be available for 1 year from date of course confirmation.
Anatomy and Physiology Exam Specification
After completing each body system you have an online exam.
There are 12 body systems with 12 small exams after each lesson.
Each exam consists of a few multiple choice questions and our excercise workbooks are designed to achieve this.
This makes the Anatomy easier to assimilate as opposed to one big final exam at the end.
Consolidate your learning with online quizzes, worksheets and interactive homework.
Track your progress with the answers provided for all homework and tests.
You take your online exam when you are ready.
You have three attempts; Pass mark is 60%
Online exam is timed.
Free Taster
Try before you buy with this free taster – Theory workbook on the cardiovascular system.
Course Title
Anatomy & Physiology Course
Duration Online
Price 
£195.00
Qualification: FHT Certificate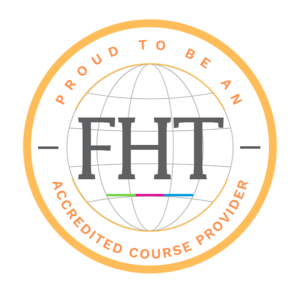 Bespoke Training
This course can be tailored to your requirements and run anywhere in the U.K.