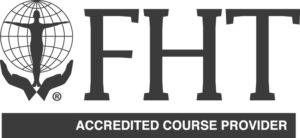 OVERVIEW
Our FHT Aromatherapy Massage courses teach you everything you need to practice Aromatherapy.
Aromatherapy uses aromatic plant oils for health and well being. Essential Oils are used to produce massage blends, creams, sprays and vapours for use on the body.
Aromatherapy can be practised on its own, or used in conjunction with therapies such as Sports Massage, Hot Stone Massage, Indian Head Massage & Reflexology.
The aromatherapy massage course is taught by professional and practising Aromatherapists with a passion for the subject, using experience from their own practice. 
OUTLINE
Aromatherapy Massage Course Outline
History & development of Aromatherapy.
Why and how Aromatherapy works.
Physiological therapeutic effects of essential oils & aromatherapy.
Exploration of living plants used to make aromatherapy oils.
A knowledge of carrier oils.
In-depth knowledge of over 40 essential oils.
Use, care and storage of essential oils.
How to blend bespoke Aromatherapy oils for clients.
Utilise your current Massage Routine.
The holistic approach – treating the whole person.
Contraindications to Aromatherapy Massage.
Basic knowledge and recognition of skin types.
Professionalism, Ethics and Hygiene.
BOOK / BUY
Tab Title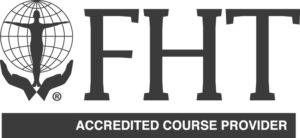 Aromatherapy Massage Objectives
After successfully completing the course, you will be able to:
Open your own private practice, treating clients from home.
Work in health clubs, hotels, ski resorts or offer mobile visiting massage treatments.
Treat clients using aromatherapy massage oils and advise on its use.
Study one of our further advanced massage courses.
Supplement your full-time income by working part-time.
Provide massage treatments to family and friends.
Develop your Continual Professional Development (CPD) portfolio.
Join organisations such as the Complimentary & Natural Healthcare Council (CNHC).
Use the title 'Aromatherapist'.
Prerequisites & Who is this course for?
There are no formal prerequisites, this 11 day course is for absolute beginners.
If you already hold a Level 3 Diploma in Body Massage with Anatomy, Physiology and Pathology, the course duration is only 6 days.
If you are unsure of your current course qualifications, please call us.
Aromatherapy Massage Course Duration
The Aromatherapy massage course is a fast track and intensive program.
Topics are taught for a total period of 11 days, spread over 2-3 months to allow time for revision and for completion of case studies.
Home study and case history assignments are completed in conjunction with formal lectures and practicals.
Aromatherapy Massage Exam Specification
An online multiple choice Exam in Anatomy, Physiology and Pathology (not necessary if already taken in a previous qualification completed within the last 3 years).
60 completed home case studies (thorough guidance given during lectures).
2 Assignments (Business Plan & Complementary Therapies (if not already completed in a previous qualification).
Aromatherapy Massage theory and practical exam.
Course Title
Aromatherapy Massage Diploma
Duration
11 days * Exam fee not included.
Price 
£1595.00
Qualification: Diploma
Bespoke Training
This course can be tailored to your requirements and run anywhere in the U.K.