OVERVIEW
Our FHT level 3 Aromatherapy Massage course will take you from an absolute beginner right up to a professional Aromatherapist.
Aromatherapy uses aromatic plant oils for health and well being. Essential Oils are used to produce massage blends, creams, sprays and vapours for use on the body. Aromatherapy can be practised on its own, or used in conjunction with therapies such as Sports Massage, Hot Stone Massage, Indian Head Massage & Reflexology.
We teach you how to blend your Aromatherapy oils for a vast range of conditions: Headaches, Arthritis, GUT health, Stress, and many more. 
You will learn the profile and indications of 42 essential oils, including carrier oils.  Our Aromatherapy course will give you the confidence in explaining significant chemical constituents, therapeutic actions, most beneficial methods of use and safety data of essential oils. This course includes other ways of using your oils besides massage, such as: Compress, inhalation, bath blends and more.
You will have access to full instructional videos with a comprehensive massage routine that includes deep tissue and hands free techniques.
The syllabus covers:
We offer blended learning so that more time is spent in class perfecting your practical skills.
Aromatherapy massage (practical and theory)
6 days Attendance classes
Anatomy and Physiology – Complete online 
Professional Conduct, Business Awareness 
Principles and Practice of Complementary Therapies  
OUTLINE
Aromatherapy Massage Objectives
After successfully completing the course, you will be able to:
Open your own private practice, treating clients from home.
Work in health clubs, hotels, ski resorts or offer mobile visiting massage treatments.
Treat clients using aromatherapy massage oils and advise on its use.
Study one of our further advanced massage courses.
Supplement your full-time income by working part-time.
Provide massage treatments to family and friends.
Develop your Continual Professional Development (CPD) portfolio.
Join organisations such as the Complimentary & Natural Healthcare Council (CNHC).
Use the title 'Aromatherapist'.
Prerequisites & Who is this course for?
There are no formal prerequisites, this  course is for absolute beginners.
Deposit of £ 590.00 will enrol you onto the course.
If you are unsure of your current course qualifications, please call: 01273625460
Aromatherapy Massage Exam Specification
An online multiple choice Exam in Anatomy, Physiology and Pathology (not necessary if already taken in a previous qualification completed within the last 3 years).
60 completed home case studies (thorough guidance given during lectures).
Business Practice assignment – Online
Complementary Therapies assignments – Online
Aromatherapy Massage theory and Practical exam.
Course Title
Aromatherapy Massage Diploma
Duration
7 days
Price
£1595.00 – Includes Anatomy
Exam fee: £195.00
Qualification: FHT Diploma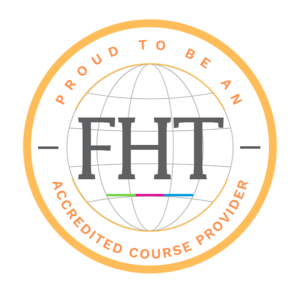 Bespoke Training
This course can be tailored to your requirements and run anywhere in the U.K.
Contact us for availability of weekend courses